Living Electric

Start Living Electric

When you make the switch to the Bolt family of electric vehicles you get so much more than a new car. With the Bolt and Bolt EUV you get a fun and responsive all-electric vehicle that offers the perks of driving a Chevrolet along with less maintenance, more ways to "refuel", and innovative ways to make "living electric" easier than ever.Looking for more reasons to switch to an electric vehicle?

Ditch the typical engine upkeep — oil changes, transmission fluid flushes, engine belt replacements can be a thing of the past. When you drive a Chevy electric vehicle, you will spend less time and money on maintenance.
With three easy ways to charge your vehicle, you can get back on the road faster. Find more information about Level 1, Level 2, and Level 3 charging stations below.
Plan your entire commute or sight-seeing vacation, including charging stops, in your myChevrolet app.
NOW AVAILABLE – 2022 Chevrolet Bolt EUV

The 2022 Bolt EUV is now on the lot at Bowman Chevrolet. Be one of the first to own this exciting, all-electric vehicle. Available with Super Cruise, a driver assistance feature for compatible roads, you can also be one of the first to drive it hands-free too.

Contact us today to speak with one of our certified Electric Vehicle Specialists and reserve your Bolt EUV.
Find New Roads with up to 259 Miles of Range

"Range anxiety" affects electric vehicle and gasoline-engine vehicle drivers alike. (Ever let your tank get a little too close to E?) With an EPA estimated range of 247 miles* for the Bolt EUV and 259 miles* for the Bolt EV, and over 1,400 public charging outlets already installed across the state, these all-electric vehicles will give you the power you need for more than just your day-to-day driving.

Concerned about your range? Android and iPhone users can utilize their myChevrolet app to plan their route for local and long-distance travels, find nearby charging stations, and explore new roads with confidence.
Home Charging Made Easy

Purchase or lease your new electric vehicle through Bowman Chevrolet and we can make installing your home charger even easier.

Bowman Chevrolet has partnered with Hutchinson's Electric to install all levels of EV chargers for residential and commercial customers. Let Hutchinson's team of expert electricians transform your home garage or public parking lot and charging your car can be as easy as plugging in your smartphone. To schedule your installation with Hutchinson's Electric, call (248) 623-8480.

With the launch of the Bolt EUV, eligible customers who purchase or lease a 2022 Bolt EUV or Bolt EV could have the standard costs of a Level 2 charging outlet installed for free! You could also qualify for an electric vehicle charger rebate through your local energy company.

Contact one of Bowman Chevrolet's Electric Vehicle Specialists for more information.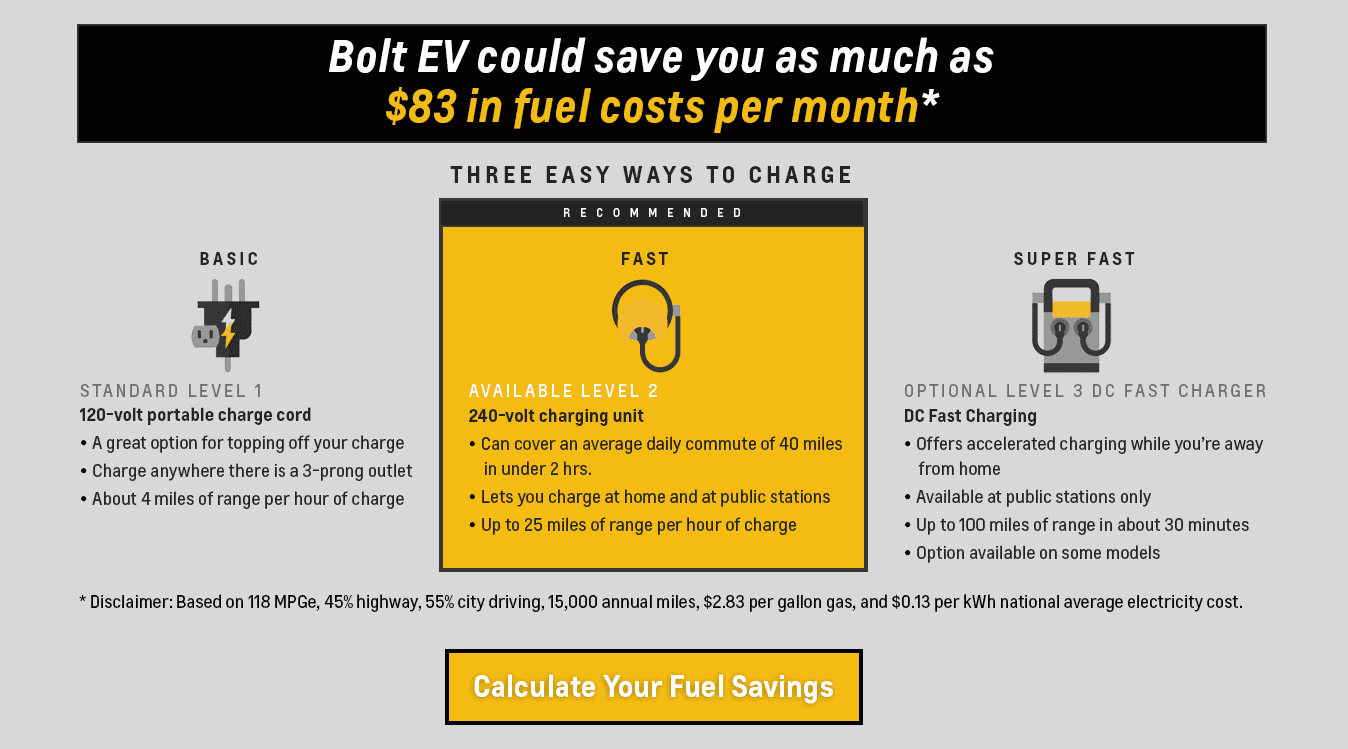 Drive electric and cash in on the savings with DTE or Consumers Energy
You could save even more by qualifying for an electric vehicle charger rebate.
You could qualify for a $500 DTE rebate if you:
• Purchase or lease an electric vehicle
• Install a qualified Level 2 charger
• Enroll in a year-round time-of-use (TOU) rate

You could qualify for a $500 Consumers Energy rebate if you:
• Are a Consumers Energy residential customer
• Own a plug-in EV
• Install an approved Wi-Fi connected Level 2 charger at your home
To see if you qualify and for current program details, visit:
www.dteenergy.com/chargingforward or www.consumersenergy.com/powermidrive

myChevrolet Mobile App with Energy Assist

The myChevrolet mobile app with Energy Assist is your electric vehicle's command center. It can provide you with all vehicle diagnostics, help plan the most efficient routes, find available charging stations, even manage and pay for charging while you're on the go.

• Energy Assist uses key information like your vehicle's current charge, driving conditions and real-time weather to calculate the most efficient route.

• The app can help you locate more than 40,000 charging stations nation-wide, and will tell you if a station is available and compatible with your vehicle.

• To make public charging even easier, pair your myChevrolet account with EVgo so you don't have to switch between apps if you have to pay.