The Utterly Refined 2017 Chevrolet Corvette Stingray Interior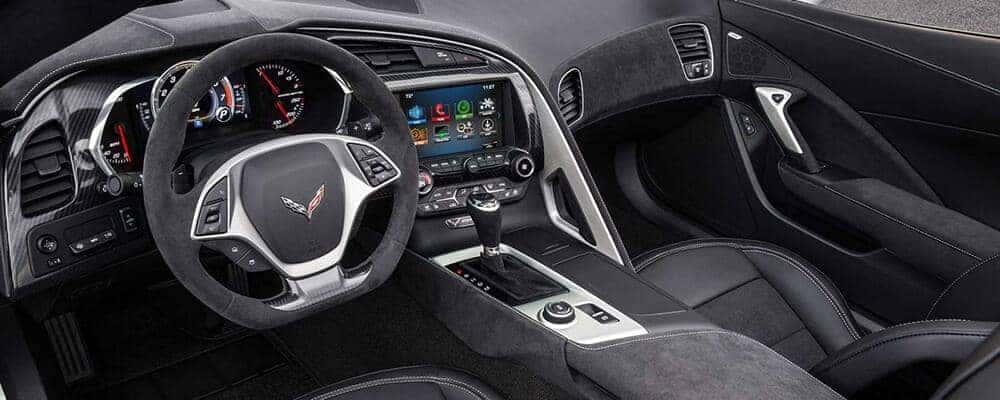 Imagine cruising through Detroit in the cockpit of a true sports car, with premium materials all around you. With the 2017 Chevrolet Corvette Stingray, this dream can become a reality, thanks to an interior that has been designed and outfitted for your driving pleasure. Seating provides excellent support so you'll be supremely comfortable, and various design elements ensure a truly breathtaking aesthetic. Explore the utterly refined and luxuriously appointed interior of the 2017 Chevrolet Corvette Stingray before making it your own at Bowman Chevrolet in Clarkston.
Interior Features
Across the 2017 Chevrolet Corvette Stingray lineup, the interior features promote coziness and comfort, as well as convenience. From the start, you can expect leather upholstery and dual-zone automatic climate control, along with power-adjustable front seats and steering wheel. Meanwhile, a color driver information display provides easy access to important data, and a rearview camera facilitates reverse and parking maneuvers. Moving through the lineup, expect front-view parking cameras, a head-up display to keep your eyes on the road while taking in crucial information, heated and ventilated seats, and a navigation system to get you where you're going with ease.
Luxury Appointments
Despite its sporty nature, the 2017 Chevrolet Corvette Stingray exudes luxury, and that's evidenced by the standard and optional appointments. As previously mentioned, all models get leather upholstery, but that's upgraded to Napa leather at the top of the lineup. Meanwhile, a standard Grand Touring seat boasts a lightweight frame to keep you comfortable, and an option Competition Sport seat plays to the model's athletic side while remaining refined.
Additionally, various package upgrades take things a step further:
Grand Sport Collector Edition: Chevrolet has limited the run of this model to 1,000, so in order to access a full leather and suede interior, two-tone seats, carbon fiber trim, unique badges, and more, get in touch with Bowman Chevrolet to see if you can reserve one for yourself.
Spice Red Design Package: With this package, you'll enjoy leather dipped in Spice Red coloring, and touches of the spiciness in the instrument panel, console, and doors.
Twilight Blue Package: Similar to the previous package, this one adds a dash of Twilight Blue throughout the cabin.
Jet Black Suede Design Package: Black suede accents can be found inside, as well as a sueded microfiber steering wheel and shifter and a high-gloss, carbon-fiber interior trim plate.
Step Inside the 2017 Chevrolet Corvette Stingray at Bowman Chevrolet
If you'd like a tour of the 2017 Chevrolet Corvette Stingray, as well as the opportunity to pick and choose how you want to adorn the interior, then plan your trip from Waterford to Bowman Chevrolet, located at 6750 Dixie Hwy. in Clarkston, MI. Our team is happy to help in any way we can! Prefer to get behind the wheel of the upcoming 2020 C8 Corvette? Preview the 2020 Corvette Stingray interior with us before you get behind the wheel!