Chevrolet Traverse Reviews Praise this SUV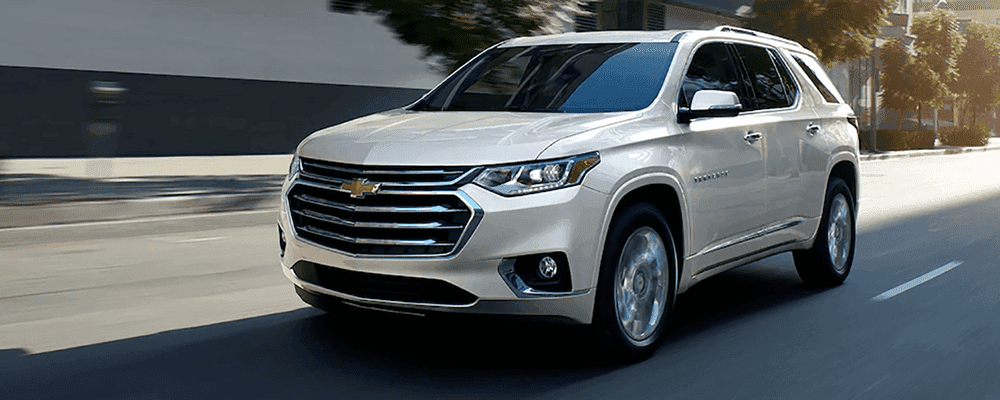 The 2019 Chevy Traverse is a popular SUV among Detroit drivers, thanks to its wide array of features, safety technology, a solid towing capacity, and space. This midsize SUV is definitely at the top of the list in its segment, and it has the reviews to back it up. See what critics have said in their Chevrolet Traverse reviews.
Highlights From the Chevy Traverse Reviews
Edmunds: "Third-row legroom has also increased, offering more than the Honda Pilot and Toyota Highlander. You'll be hard-pressed to find more passenger room without stepping up to a full-size SUV."
Car and Driver: "Drop all of the Traverse's folding seats and it becomes a cargo-hauling champ with more space than any of its rivals."
Kelley Blue Book®:"It's markedly better-looking than the outgoing model, inside and out, and offers both more features and more power."
Motor Trend:"The weight loss and superbly tuned nine-speed automatic advance its efficiency standings, and in terms of performance of intended function it trumps the rival VW Atlas." Motor Trend also named the Chevrolet Traverse as a finalist for their SUV of the Year 2018.
What Makes the Traverse a Favorite Around Clarkston?
The Chevrolet Traverse has undergone several updates and upgrades to become one of the most popular SUVs in its class. With three rows of seating, the Traverse comfortably seats up to eight passengers. The Traverse also provides ample cargo space, which is perfect for long distance travel when you need to bring along luggage or other items.
Test Drive the Chevrolet Traverse at Bowman Chevrolet
See if the Chevy Traverse reviews are right when you visit Bowman Chevrolet and check out this SUV for yourself. Contact us to set up a visit to our showroom, get a walkthrough of the Traverse from our friendly sales team, and take it for a test drive to experience its features and performance firsthand.