Corvette

We are currently taking deposits on Corvette C8 at MSRP.
We cannot promise any specific model year at this time.
We are no longer taking deposits on the Z06 special edition as we do not know when or if we will be able to fill beyond our current waitlist.
Please contact our Corvette sales department for more information.
Shop Our Inventory

Join the Owner's Circle

It's the top-selling high-performance sports car in its segment and stands alone as the only truly American sports car in the competitive class, and continues to elevate performance and design to the next level.

Interested in purchasing a Corvette? We are accepting pre-orders the C8 Corvette model. To reserve your new Corvette or to learn more, contact our performance sales team today at [email protected] or (248) 575-5000.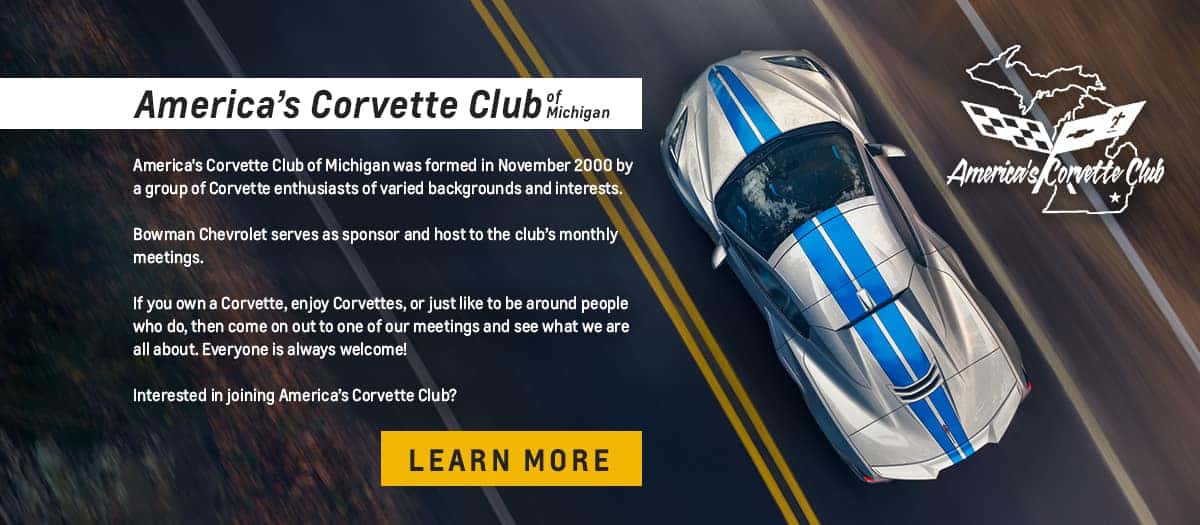 Welcome to the Corvette Academy
Chevrolet's Corvette Academy is the online learning center for the first mid-engine Corvette, and also gives those curious a look behind the wheel. The video series highlights various Corvette features, and shares tips and how-tos from the engineers and experts that brought the Corvette to life.
Mid-Engine Transformation
Visit the Corvette Academy Channel to view the full video library.
2022 Corvette: Turning Heads and Making Headlines
| | | |
| --- | --- | --- |
| The Corvette Z06: Putting the world on notice. | The Chevy C8 Corvette: Everything We Know About the Powerful Mid-Engine Beast | The 2020 Chevy Corvette Convertible Is as Friendly as Mid-Engine Cars Get |