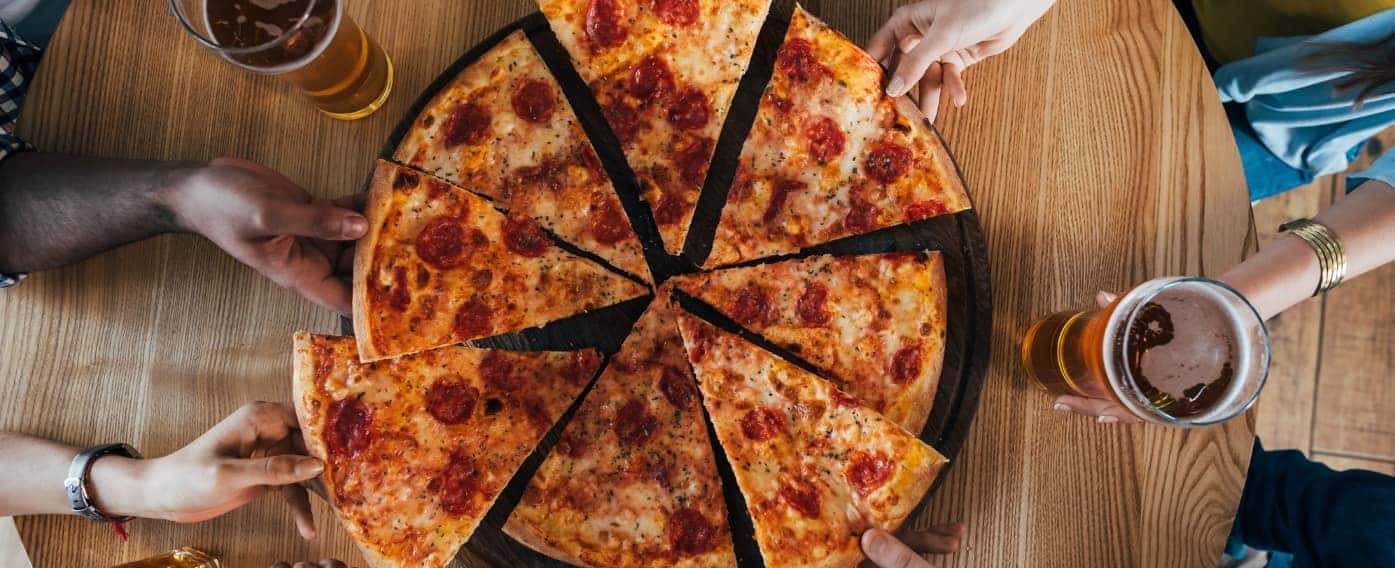 Everyone in Clarkston seems to have strong opinions about what makes a good pizza and where to find it. Waterford has lots of extraordinary pizza places, but John Bowman Chevrolet, Inc. recommends these restaurants as the best pizza in Waterford MI. Whether you prefer new modern toppings and a thin crust or a deep-dish traditional pie, if you're looking for delicious pizza in Waterford MI, read on!
Guido's Premium Pizza
Guido's Premium Pizza is known for being the "Savory Sauce Boss" and offers three tasty sauce options: Original, Spicy Fire Roasted, and Chunky Tomato. Regardless of whether you like thin crust, hand-tossed, or deep dish and Chicago-style pizzas, Guido's is the spot for pizza in Waterford MI. They also have an extensive menu with a variety of other foods, including pasta, chicken wings, subs, breadsticks, and salads. Guido's is open seven days a week for lunch and dinner and offers dine-in, carry-out, and delivery services.
Lucky Duck Pizza
Lucky Duck Pizza is truly a hidden gem! If you're looking for a variety of pizza options in one place around the Lake Orion area, Lucky Duck has something for everyone! You'll be greeted with a smile, and the pizza is to die for. Their pizzas are also about 30% larger than most other pizza places making it a great value. John Bowman Chevrolet, Inc. recommends you try the Coney Dog pizza. You'll surely be impressed!
D'Marcos Italian Restaurant
D'Marcos Italian Restaurant features modern Italian fare alongside celebrated Italian classics with a wide selection of fresh seafood, chops and salad entrées served in a relaxed, casual setting with a warm and friendly ambiance. Grand Blanc wine enthusiasts will want to make the trip for a plethora of wine selections from around the world by the glass or the bottle. In addition to the main dining area, the restaurant includes a wine bar, a comfortable lounge area, and a private dining room.
Chubby Charlie's Pizza
With a name like Chubby Charlie's, you know it's got to be delicious! The pickle pizza is surprisingly amazing, and they have a plethora of other creative specialty pizzas that are just as decadent. Chubby Charlie's runs regular specials like $7 for a large one-topping pizza on Wednesdays and $5 calzones on Thursdays. Their calzones are gigantic and stuffed full of deliciousness, and the staff is always friendly and ready to serve, just like the team at John Bowman Chevrolet, Inc.!
If You Need Car Service While You're Out, John Bowman Chevrolet, Inc. is Here for You
If you're out and about in the Clarkston area and find yourself in need of service for your vehicle, remember John Bowman Chevrolet, Inc. is always here for you. Our experienced service staff will take good care of you and get you back on the road in no time at all. You can easily schedule service online or contact us today. Want to learn more about Waterford and the surrounding area? Consult our local guide online for info on the best takeout in Detroit and so much more, and be sure to let us know if you have some tips of your own that you'd like to share!
More from John Bowman Chevrolet, Inc.
If you're shopping around the Waterford area for a spacious and feature-packed SUV for sale, consider the much-talked-about 2021 Chevrolet Tahoe at John Bowman Chevrolet, Inc.. You'll be surprised at what the Chevy Tahoe interior has to offer! Whether you're interested in a Tahoe leather interior or the entry-level configuration, this Chevy SUV has what it takes to…

Waterford drivers on the hunt for an affordable commuter sedan with an unusually lavish interior in greater Lake Orion should consider the Chevy Malibu. With cutting-edge technology features, a roomy cabin, and luxurious appointments, the Chevy Malibu interior is sure to make your commute from Clarkston something you actually look forward to. With a diverse inventory…

If you're a Clarkston family in the market for a new compact SUV, look no further than the 2020 Chevy Equinox. From fun-to-drive handling to a striking exterior and comfortable, convenient cabin features, there is so much to love about this vehicle. Read on below to discover more details about the impressive 2020 Chevy Equinox…